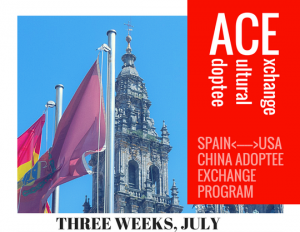 Do you have a high-school age adoptee from China interested in travel and exploring their heritage?
This tour allows a Chinese adoptee living in the United States to spend three weeks in Spain with a family who adopted from China. Then, after those three weeks are up, the American adoptee will return the favor and host the Spanish adoptee in the U.S.! Note that you do not need to have adopted from our agency – this tour is open to Chinese adoptees from any agency within the U.S. Our only restriction is that the adoptee must be between the ages of 14-19.
Tour Dates in Spain: July 1 – 22, 2020
Host Dates in U.S.: July 22- August 11, 2020
ACE Program
In our years processing adoptions and running heritage tours, we have often been asked what it is like for Chinese adoptees in other areas around the world. This tour provides Chinese adoptees a chance to explore this on their own, within the safe confines of a host family. We have partnered with one of the biggest adoption agencies in Spain to create a completely unique and exclusive cultural/learning exchange experience for Chinese adoptees within the United States. This is one of the most unique cultural exchange and heritage tour opportunities available for a Chinese adoptee, and we are the only U.S. agency currently offering this opportunity. In the initial phase of the process, GWCA staff will speak with your family to answer any questions that you have about the program. At this point, our staff will provide you with our flyer/informational packet, help answer any questions you might have.
Once your family feels comfortable this program is a great fit for your adoptee, you can apply and contract for the program! Once you have applied, we will send you a contract for your review detailing the rules and expectations for the program, and once you have signed that contract we will be ready to move forward with matching your adoptee/family with a Spanish family/adoptee.
Once you have applied, we will work with our Spanish partner agency to match your adoptee with a host family in Spain and vice versa. We will strive to match families so that they are ideally matched with a kiddo who is a similar age and gender. The goal of this program is to provide adoptees with a cultural experience to remember for the rest of their lives, but also to hopefully provide them with a lifelong friend! If you have any specific requests or restrictions, you are welcome to let us know these at anytime in the process. We also want all of our families to know that you will be allowed direct contact with the Spanish family, so you can see for yourself how welcoming and prepared they are to provide your adoptee an amazing trip.
The cost of this program, $1,750 includes:
* Room & Board
* Medical Insurance
* Program Facilitation & Coordination (including the travel to Spain as well as the hosting period)
* 24/7 Support (including the travel to Spain as well as the hosting period)

This is a really great opportunity for your Chinese adoptee to meet another adoptee with shared heritage while also getting to learn about Spanish culture. Though they may come from different places, adoptees can share the experience of what it means to be a Chinese adoptee on a shared heritage tour. Additionally, the entire U.S. adoptive family will be able to provide a unique cultural exchange for an adoptee from Spain. This tour bridges the adoptee experience. We think this is a great opportunity for a high school age adoptee to embrace their roots and discover global connectivity. This exchange opportunity would be exceptionally valuable as a learning experience prior to an adoptee going on to college (and would make for a great college entrance essay!), or even to help a high school student seize their independence.