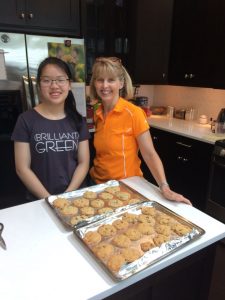 Hosting exchange students is a wonderful way to add culture and richness to your life, without having to leave the comforts of your own home. Many families want to teach their children about other traditions and ways of living outside the United States and hosting a foreign student is a wonderful way to achieve this.
As a host family you are given an opportunity to share the wonderful experience of learning about your host student's culture and sharing the knowledge of your own. Families that want to host exchange students are people with an interest in sharing the experience of living with someone with a different culture. They are also delighted to share with the students their own lifestyle in the United States.
By hosting an exchange student you will learn firsthand the exciting traditions and ancient customs from a citizen of the country. It is also a special time for the student to witness American culture and experience what it is like being the part of an American family.
Student Ambassador Exchange prides itself on providing students with high quality host families during their stay in the United States. Students get the best experiences with a host family who is as excited to learn about them as the students are to learn about America! At the same time, host families get to experience the adventure of sharing a home with someone from a different culture. It is a great way to see the world from a different perspective without ever leaving your home!
Fill out our FREE Hosting Interest Application, and we will send you more specific information on our currently enrolled students, such as photos, introduction videos, letters and more!
What Makes a Great Host Family?
For our exchange students, it's the little things that make their year: making s'mores, going to a high school football game, dancing the night away at prom. Hosting an exchange student doesn't take anything fancy — just a warm, welcoming spirit and the love you'd give to your own family.

There is no 'typical' host family! Our families represent the diversity of American culture, and we encourage families of all shapes and sizes to host. Some families have young or teenage children, while others may be empty-nesters or newlyweds. We've had single parents, same-sex couples, and grandparents all be wonderful hosts.

All our host families are volunteers, and we've found that those who truly enjoy the experience are caring, open-minded people who want to learn more about other cultures while sharing their American life with a student from across the globe.

What is required?
Safety is our number one priority, so we ask SAE host families to abide by regulations of the U.S. Department of State and policies outlined by Student Ambassador Exchange and the Council of Standards for International and Educational Travel (CSIET), as well as, provide:
Open communication, encouragement, patience, and sound advice.
A separate bed, which can be in a shared room with a host sibling of similar age and same gender, and a quiet place to study.
Three meals a day. (lunches bought at school are paid for by the natural family/student)
Local transportation. (students are not permitted to drive while on the program)
Treatment as a member of the family, which include the same rules, responsibility, and love provided to members of the family.
Students cover their own travel costs, health insurance, school expenses, cell phone, and spending money.
What is the Process?
1. Talk it Over & Select a Student
Hosting an exchange student is a decision made by the entire family. Find a student that fits with your family and get more information about the student like photos, letters, videos and more!
2. Submit An Application
Once you say "Yes!" to hosting and select a student, you fill out a free Host Family Application. The application includes information about your family, your community and your local school, which we will later send to the student so they can get to know you a bit better before coming to the United States!
3. Meet with a SAE Local Coordinator
Once you submit your application, SAE will review everything, and conduct a background check on all persons over the age of 18 living in the home. A SAE Local Coordinator will also arrange to come to meet you and your family at your home. Your Local Coordinator will explain general hosting guidelines and what to expect, as well as answer any questions you may have.
4. Wait for School Acceptance
SAE submits your student's application to your local high school. Once the high school approves the application, your placement as a SAE Host Family becomes official. Our overseas partners then forwards your contact information to the student and he or she is encouraged to start developing a relationship with your family through letters, e-mails or phone calls.
5. Attend Orientation
Prior to the students' arrival, we ask that all host families attend an orientation meeting. The orientation, conducted by our staff, will provide families with a solid overview of the hosting experience.
6. Welcome Your Student and Student Orientation
The big day! You meet your student at the airport, with welcoming signs, warm smiles and enthusiasm! Your student will likely need to register for school and or select the classes they will be taking. We ask our host families to help the students register for classes and families will often need to show proof of residency inside your local school's district. Students are required to attend an SAE Student Orientation to be scheduled with your Local Coordinator.
7. Receive Ongoing Student Ambassador Exchange Support
Throughout the duration of the student's and your family's exchange experience, a SAE Local Coordinator will be available to assist both you and the student. Your Local Coordinator will either meet in-person, video chat, or have a phone call monthly with your student and your family to monitor host family, social and academic progress.
Additionally, SAE Headquarters provides 24/7 emergency support to host families and students.
Does any of this interest you? Contact a program coordinator for more information today!
info@saeglobal.org or (512) 323-9595