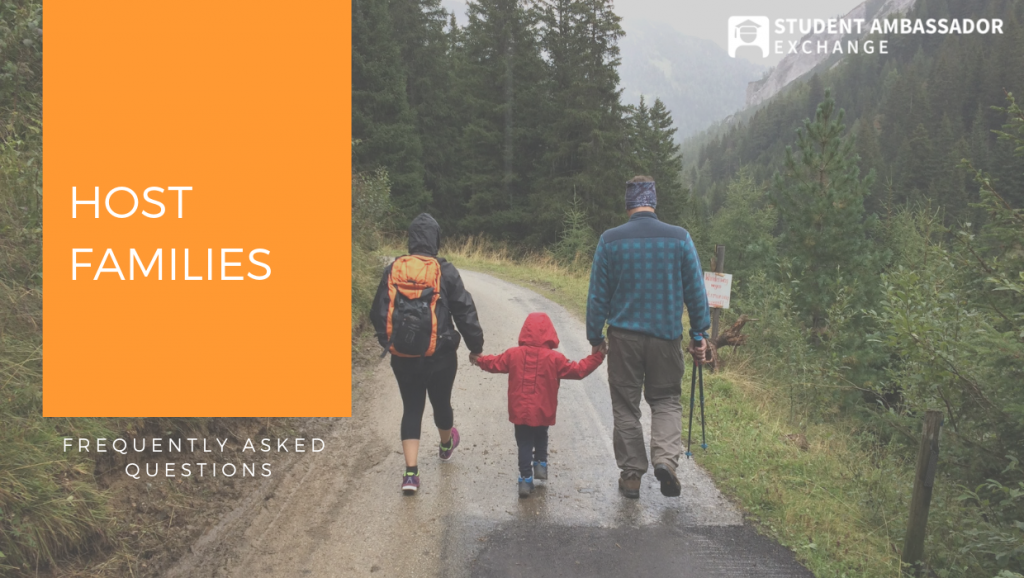 See our Host Family FAQs below and find out how you can get involved in one student's dream of education and service!
Who Can Host?
SAE Host Families come in all shapes and sizes and can include working parents, empty nesters, single parents, and singles. Our families are from varied economic, religious and racial backgrounds. Are located across all 50 states, and are from rural, suburban and city areas. 
What would be expected of me and my family?
Open communication, encouragement, patience, and sound advice.

A separate bed, which can be in a shared room with a host sibling of similar age and same gender, and a quiet place to study.
Three meals a day.
Local transportation. (as students are not permitted to drive during the program)
Treatment as a member of the family, which include the same rules, responsibility, and love provided to members of the family.
Additionally, safety of everyone involved in the program is of extreme importance, which is why we ask that all participants, students, host families, local coordinators, and staff, abide by the regulations set forth by the U.S. Department of State Bureau of Educational and Cultural Affairs, the Council of Standards for International and Educational Travel (CSIET), and Student Ambassador Exchange. 
What do I have to pay for?
SAE high school exchange students come with their own spending money and are responsible for paying for their own personal activities and extracurricular activities, including school clubs. You will need to pay the minimal costs, associated with housing another person, such as utility bills, increase in groceries, etc.
Do I get paid to be a host family?
Hosting is a volunteer opportunity. The Internal Revenue Service has authorized families to claim a $50 per month charitable contribution deduction on their itemized tax returns.
Will my exchange student be covered under my health insurance?
Students have their own accident and health insurance coverage during their stay. They will not have to join your health plan.
How long does a student stay?
Most SAE students will attend a full academic school year of 10 months, typically September through June. We do have a few students every year hoping to attend for only the spring or fall semesters, a five month program.
What countries do the students come from?
SAE students are from around the globe. Many of our students hailing from Asia and Europe.
What if I have questions about adjusting to my student? Who do I contact?
You will also have access to 24-hour support and advice from your Local Coordinator, who will help match you with a student, promote the program to your community, and monitor your experience during your student's stay.
I'm excited to host. How do I get started?
Submit our short Host Family Application and we can get you matched with a student who matches YOUR family's interests!
Have more questions?
For other questions, Contact us at (512) 323-9595, at info@saeglobal.org , or fill out the form to the right and a team member will be in contact with you soon.
We're excited to tell you about our students' dreams and how you can make them happen!